Hi, I'd like to introduce myself…
Hannah Stone
Cullompton Permanent Makeup
Specialist
My name is Hannah stone and I'm a fully qualified, insured and licensed semi permanent makeup artist. I have been in the beauty industry for 17 years and have run my own salon (simple beauty Cullompton) for the past 10 years.
I was inspired to train in semi permanent makeup when I had my own done a few years ago and realised what it did to my own self confidence and makeup routines. I was positive that being a total perfectionist, previous experience and eye for detail I would be good at it.
It has now become my new passion and I am now excited to be able to offer a unique service of permanent makeup to the Cullompton area that makes clients happy and confident at all ages and will stay beautiful for years to come.
Here's a little about my training and experience in the industry…
Here is just a brief overview of the in-depth knowledge required to perform permanent makeup at a very high level. I trained 1 to 1 with Multi-Award Winning Head Trainer Katy Jobbins at the Permanent Makeup Training Academy.
Medical Knowledge
Dermatology

Medical Conditions

Changes In The Skin

Contra-indications

Allergy Testing

Consultations, Medical History, & Aftercare
Colour Theory
Colour Theory, Permanent Makeup Pigments and Colour Mixing

The Study of 21 Pigments

Advanced Colour Correction
Technical Training
Needle Configurations

Machine management & Sterilisation

7 Advanced Needling Techniques

Pigmenting Guidelines for Brows, Eyes, Lips

Total Symmetry, Convex & Concave Faces

Pre Drawing & Measuring Eyebrows, Lips & Eyes

Natural Hair Simulation, Powdered Effect Eyebrows, Combination Effect Eyebrows

Lip Liner, Natural Lip Blush & Full Lip Colour

Eyelash Enhancement, Safe & Simple Eyeliner Designs

Micro-Blading

Specialist Training
 I've had specialist training in corrective treatments so I am able to perform corrective permanent makeup procedures on unhappy clients that have had their permanent makeup done elsewhere with poor results.
I Use Only the Highest Quality Permanent Makeup Pigments on All My Clients…
All the colour pigments that I use have been specifically formulated through years of research and development using only the finest grades of iron oxides and lakes, the same ingredients found in make-up giants
Lancome, Estee Lauder, Shiseido, Truco, Guerlain, MAC, Channel and Gucci
cosmetic products. All the pigments I use are medical grade and from the leading suppliers to the medical profession worldwide. All my pigments are hypoallergenic and are also designed for concealing imperfections on burns, scars, cancer, vitiligo, and cleft pallet patients. They have supreme colour concentration meaning less touch ups over the years.
All of my lip and eye pigments are fashioned after the top cosmetic manufacturer colours which remain true over the years. All the pigment bottles are sterile, heat sealed and tamper proof for your protection. Each one is encoded with lot numbers and expiration dates.
All pigment has a micron count of between 6 & 8 to the colour last in the skin. I carry the widest variety of natural permanent makeup colours which I custom blend for  Blondes, Brunettes & Women with Silver hair. I can also order designer colours for those wanting more dramatic colour results.
Your Consultation & Your New Look Designs
Consultation
You have made the decision to have your permanent makeup done so now is the time to meet me. We will discuss your needs and requirements, look through pictures and discover your likes, dislikes and design a treatment plan especially for you.
All consultations are FREE of charge as you need to understand if permanent makeup is suitable for you before proceeding further.
Procedure & Anti-Allergy Patch Test
Patch Test
I require a patch test to be performed 24 hours before treatment. This can be done at the consultation or if you live too far away I can send it out to you in the post with instructions. Even if you have had previous semi permanent make up done I will still require a patch test to be done.
Procedure
The procedure will consist of two appointments. First being the actual drawing on of the brow/lip line and then making by which ever method we have decided on permanent.
Please be aware that on this initial appointment your brows/lips/liner will be very dark and bold but once your permanent make up has healed the colour will fade up to 70% and will soften. You will then need to return 4-6 weeks later for a top up. This is where we can tweak anything, make them darker or simply deepen the colour to make them perfect.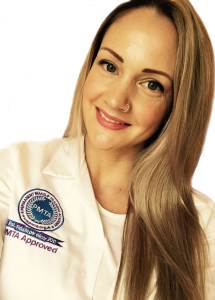 Hannah Stone



Cullompton Permanent Makeup Specialist
What To Do Next …
If You Would Also Like To Save So Much Time And Ditch Your Daily Makeup Routine
Then
Call Hannah Now

For A

FREE No Obligation Consultation

on:
Tel:
07969 331624
(If the line is engaged or I am with another client then please leave a message and I'll get straight back to you as soon as I am free)
Or Simply Fill in Your Name & Email In the Form Below and I will contact you shortly …