My Clients Healed Soft Powdered Brow Picture!
My Clients Healed Soft Powdered Brow Picture!
This is a PERFECT example of how a SOFT POWDER BROW is when healed once completed after both treatments.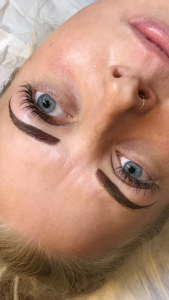 This picture is straight after the first initial treatment, it can be Very scary as its VERY dark and VERY sharp.
This needs to be the case as when it heals and the scabs come away it looses its colour by 50%.
Although it can be a shock straight after I guarantee that within 5 days you will message me saying how much your in love with your new brows 🙂
This is a HEALED picture AFTER the 6 week top up was done! How soft and gorgeous!!!!
The same thing was done at the top up, but this time as we built up the colour and the scabs came away.
The end result is much more solid looking but still as natural as ever! Now you can throw away that eyebrow pencil!!
If you would like these super natural, super gorgeous brows, then book in for a Free consultation where we can discuss all treatment plans designed for you.
Alternatively fill in the contact form on the home page to download the free guide to Permanent MakeUp!!
Hannah xx